Pathfinder Tales Humble Bundle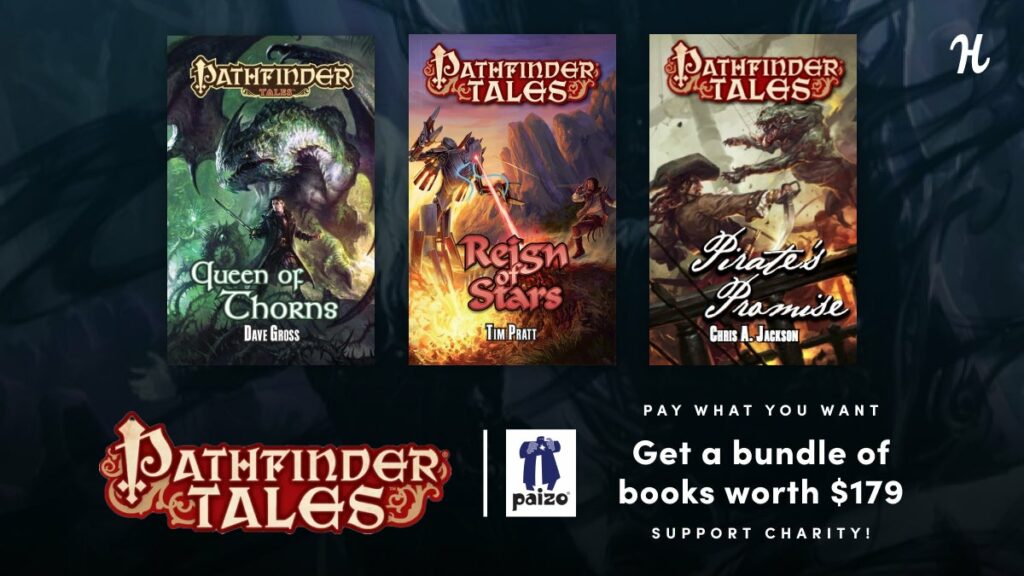 Last month, in our update from Paizo President Jim Butler, we announced that we've greenlit a standalone Pathfinder novel for release in 2024. To celebrate the return of Pathfinder fiction, we've partnered with our friends at Humble Bundle to create a special digital offer to help you and your friends read the cornucopia of past Pathfinder stories and support a great cause!
What is a Humble Bundle? Bundles are limited-time collections of games, books, software, and more. Simply pay what you want and choose where your money goes, whether that be to the publisher, to Humble itself, or even to charity. Most bundles come in tiers starting at only $1—but the more you give, the more you get in exchange!
Inside our bundle, you'll find fiction written by an esteemed list of award-winning fantasy authors, including Richard Lee Byers, Elaine Cunningham, Ed Greenwood, Dave Gross, Chris A. Jackson, Howard Andrew Jones, Robin D. Laws, Liane Merciel, Erik Mona, Tim Pratt, F. Wesley Schneider, James L. Sutter, and Bill Ward!
The products in this bundle are all digital ePubs that you can redeem with codes at the Paizo Store; you'll receive one code per tier. There are three tiers to this bundle starting at $5 and going up to a $25 tier. Read our ePub FAQ for answers to any questions you might have.
A portion of your purchase goes to ComicBooks For Kids!, which is the largest charity in the world for comic books and pop culture materials! We've been supporting them for a few years now and we know your support has made a difference. Learn more about ComicBooks For Kids! in our past blog, Support ComicBooks For Kids!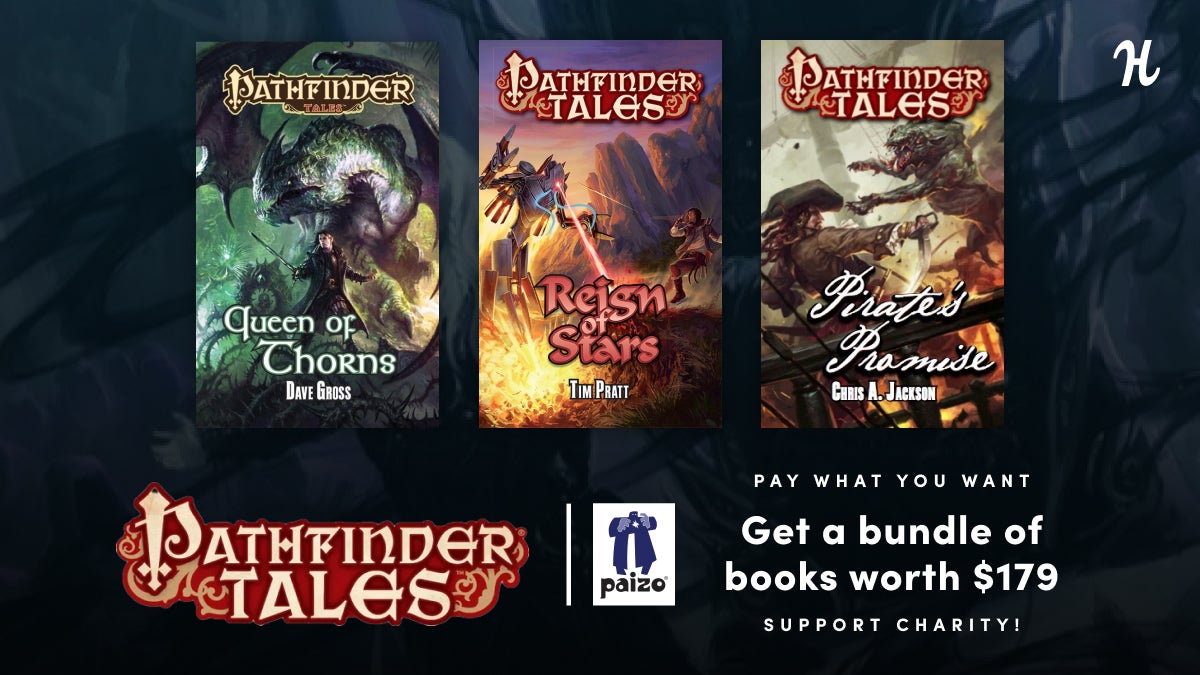 Our first Bundle tier starts at $5 and includes a code for eight ePub files worth $30, including:
"Certainty"
Hell's Pawns
"The Lost Pathfinder"
"Misery's Mirror"
Nightglass
Prince of Wolves
"A Tomb of Winter's Plunder"
Winter Witch
For $15, you'll also get the ePub files in the first tier, plus a code for 14 more ePub files worth over $60, including:
"Bastard, Sword"
City of the Fallen Sky
The Compass Stone: The Collected Journals of Eando Kline
"Guns of Alkenstar"
Husks
"A Lesson in Taxonomy"
Liar's Blade
Master of Devils
Nightblade
"A Passage to Absalom"
Pirate's Honor
Plague of Shadows
"Two Pieces of Tarnished Silver"
"The Walkers from the Crypt"
In the third tier, for $25, you'll get codes for the previous tiers, plus a code for additional 19 ePub files, worth another $90!
Blood of the City
"The Box"
Called to Darkness
Dark Tapestry
Death's Heretic
"In the Event of My Untimely Demise"
"Faithful Servants"
Guilty Blood
"The Ironroot Deception"
Light of a Distant Star
Pirate's Promise
Plague of Light
Queen of Thorns
"In Red Rune Canyon"
Reign of Stars
The Shroud of Four Silences
Stalking the Beast
The Treasure of Far Thallai
The Worldwound Gambit
The digital files are associated with your account when redeemed. They are watermarked with the redeemer's email address when they are downloaded. As such, if you want to give these to someone else as gifts, you'll want to give them the codes themselves!
Humble Bundles offer great deals and support great causes. Purchasers get a say in how much of their donation goes to each participant at checkout.
Thank you for reading Pathfinder Tales!
The Paizo Team
Support the Pathfinder Tales Bundle!